Has no plot whatsoever.
Everyday is a new story, it's not like Game of Thrones where you have to start all the way at season 1 episode 1 to understand the whole show.
Start anywhere you want and it won't even matter, (which I personally
love
)
I will now give a brief review (excluding the F6 version)
Watch out for spoilers
This is my favorite part of the whole show, low quality matsu bait at its FINEST.
Each of the Matsuno bros are color coded, so I thought it was another easy way to tell them apart.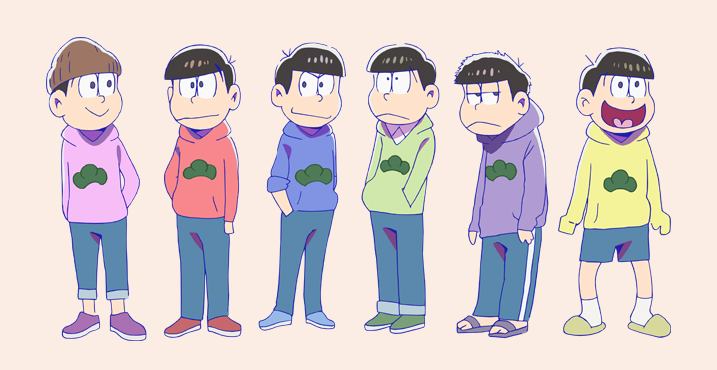 Osomatsu (red)
Karamatsu (blue)
Choromatsu (green)
Ichimatsu (purple)
Jyushimatsu (yellow)
Todomatsu (pink)
clearly many gay explicit gays are shown
which is honestly the best
Firstly, the characters and their differences are
amazing.
Each of the six brothers grew up to be different (no matter how much they look the same) and is easy to detect their weaknesses and strengths. (For example, Karamatsu is every one of their brothers weakness.)
Overview of the brothers (very long)
TLDR;
Osomatsu, the beer loving oldest brother who embarrasses his younger brothers with no redeeming qualities.
Karamatsu, the painfully cringy second oldest who wears a leather jacket and claims he has "Karamatsu Girls"
Choromatsu, the idol otaku loving geek, usually is always lecturing Osomatsu or searching for a job.
Ichimatsu, the furry, cat loving, lazy fourth oldest who does absolutely nothing all day but slouch and insult Karamatsu.
Jyushimatsu, the overly excited (and always smiling) fifth youngest with the longest sleeves who loves baseball. (
Muscle muscle, hustle hustle
!)
Todomatsu/Totty, the youngest, the evil, and most importantly the spoiled. Always on his phone blogging stuff and most of the time disappointed in his brothers.
Totoko and Chibita are around with the matsus too, but nothing really ever changes.
Chibita, still the nicest to Karamatsu and always letting the brothers hang around too.
Totoko, the girl all the brothers want to f*** is still a tease.
Would recommend watching if you like a good laugh. (unless you're not into profanity and nude, especially don't watch episode 3)


Thanks for readin! :,D